Explora I Thrives in Warm Weather Itineraries
Atoll Pool on Deck 10 is one of Explora I's four main pools (Photo: Jorge Oliver)
As comfortable and luxurious as Explora I's indoor spaces are, this ship invites its passengers to soak up the sun. For proof, look no further than the four pools on offer, an embarrassment of riches for a ship of its size and luxury credentials.
The pièce de resistance is The Conservatory Pool on Deck 11, an inviting space that boasts the ambiance of posh wellness club bathed in natural light. The pool is characterized by its glass retractable roof, a feature that makes this space suitable in any weather. But during our sailing, the retractable roof came down quickly, offering sunbathers and swimmers uninterrupted exposure to the balmy Caribbean climate.
On Deck 12 at the forward end of the ship, Helios is Explora I's one and only adults-only pool. The half-moon-shaped dipping pool, with a maximum depth of 3.7 feet (1.1 meters), benefits from unbeatable views of the landscapes ahead. The accompanying bar and lounge area makes Helios (which is named after the Greek god of the sun) feel like a secluded spot within the ship, almost reminiscent of the Yacht Club pool deck on MSC Cruises' ships (MSC is, after all, Explora's parent company).
Explora I boasts a terraced aft that not only makes the ship slightly reminiscent of a luxury yacht, but also smartly adds more open air deck space. This design perk is also responsible for housing the two remaining pools onboard. Deck 10 is home to Atoll Pool & Bar, which feels like The Conservatory's smaller sibling, albeit fully outdoors. The rectangular pool is surrounded by plush day beds and features its own bar.
During our sailing, the pool popularity contest was easily won by Astern Pool & Bar on deck 5. The centerpiece of this space is an infinity pool with stunning views of the ship's wake.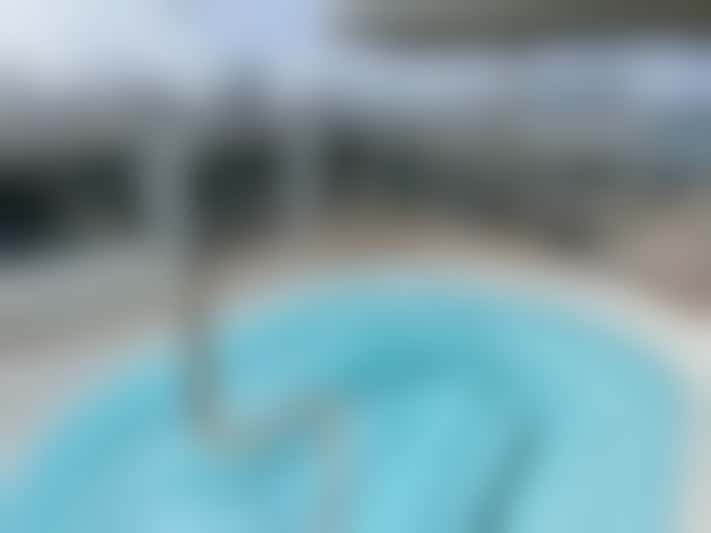 Explora I features numerous pools and hot tubs (Photo: Jorge Oliver)
But the aquatic attractions don't end with Explora I's four pools. The ship is equipped with four generously sized infinity whirlpools on decks 11 and 12, as well as one hot tub on Deck 14 by the ship's Sky Bar.
Outside of its pool offerings, Explora I also benefits from a substantial 26,909 square feet (2,500 square meters) of outdoor deck space, adding to the ship's warm weather appeal. Other notable alfresco venues on the ship include the open-air fitness area and the sports court, both on Deck 14.