Question | I keep seeing people refer to "French tucking" on social media, which is, apparently, a way of folding one's shirt for maximum flattery. I'm confused but intrigued. Is there a "right" way to tuck one's shirt into pants? Have I been doing this incorrectly my whole life? – Shirt Fronted
Dear Shirt
The good news is, there is no "incorrect" way to tuck your shirt in. The better news is that there are ways to tuck your shirt in that are vast improvements on others, and, as you point out, can be more flattering.
I contacted Victoria McEvoy, who is the brains behind Irving & Powell, a beautiful Australian shirt brand. She is the master of the French tuck, among other ways of wearing shirts.
"A French tuck is another way of saying that your shirt is half tucked in," says McEvoy (to clarify: the front half is tucked, the back is loose). The idea, she says, is to look effortless and relaxed, but not sloppy.
"For the half tuck, or French tuck, simply button all the way then take that front portion at the bottom of the shirt and tuck it into the waistband," says McEvoy. "I recommend tucking the shirt in quite tightly and then blousing it out from there by pulling the fabric out a little at the waistband."
Want to take the look even further? McEvoy also recommends the quarter tuck, where your shirt is buttoned to the top of your pant waistband, and the underside shirt tail (the one with the buttons) is then tucked in. "This leaves the top side to hang neatly over the waistband. This tuck can be really elongating on the silhouette."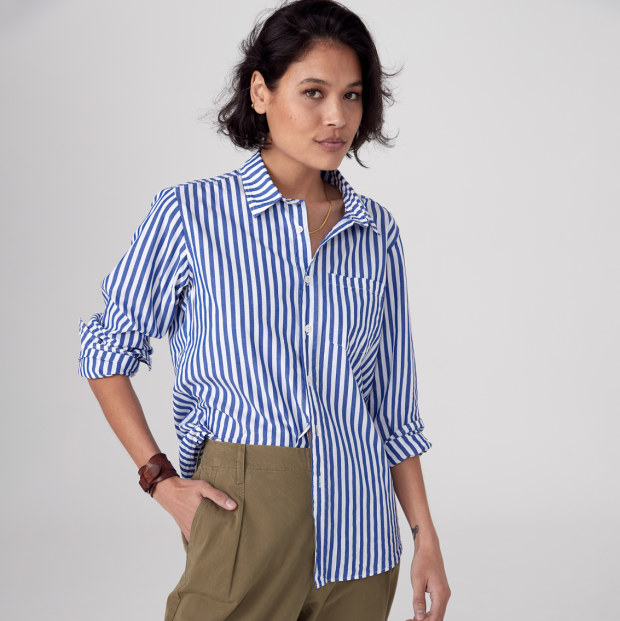 With every shirt, fit is key. A too-tight shirt can pull at the chest and create a gaping look at the buttons – not the silhouette you're likely to be after. Too oversized is too relaxed (though an oversized shirt is a great option as a beach cover-up, or for layering). "You want the shirt to sit right on, or just slightly off your shoulder, with some room in the body, so you get a blousy finish to your tuck," says McEvoy.
Got a style question? Email our fashion editor at lauren.sams@afr.com
Read next in How To Wear It