case study
Ramtech has recently completed fire installations at two stage venues in France, with its Wireless Fire and Evacuation System (WES).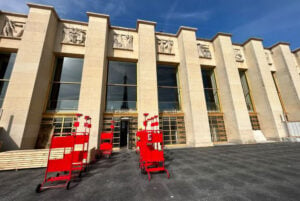 The firm has supplied systems for the ongoing renovation of the Chaillot – Théâtre national de la Danse and the refurbishment of the well-known Paris opera house, Palais Garnier. The WES is designed to provide a more comprehensive solution to mitigate potential risks during construction.
Stephane Stroesser, Business Development Manager, France at Ramtech, said: "Fire poses a significant risk to any construction site, jeopardising worker safety and causing extreme financial losses and delays in project timelines.
"Ramtech's wireless solutions are ideal for preserving historic spaces and ensuring safety. The WES3 systems guarantee immediate communication of emergencies, enhancing worker and site safety, whilst also protecting the broader community from potential hazards."
Restoration and preservation 
The Chaillot project, spanning two years is reported to be a 40-million-Euro investment, led by the Eiffage group. Ramtech provided and installed its WES3 system, comprising 27 units and 10 mobile firefighting trolleys, ensuring comprehensive protection throughout the renovation. This commitment to safety reflects the venue's dedication to safeguarding employees and visitors.
Additionally, Ramtech helped in the recent €7.2 million refurbishment of Palais Garnier, where the façade and gilding were meticulously restored. The inclusion of the WES3 system added an essential layer of safety, the firm believes, where operation in historical and intricate environments means preservation is paramount.
Adam Kovics, Sales Manager at Ramtech, said: "It's been exciting to be involved in these two major renovation projects at some of Paris' most famous theatre venues, putting Ramtech centre stage for wireless fire and evacuation safety. The features of the system make it robust but also adaptable to meet the requirements of these complex venues. Having the option to set the language to French is also a standout addition.
"With the team's work here and at the Adidas Arena for the Paris Olympics 2024, Ramtech's success in the French market continues to be remarkably strong, with solid partnerships that we hope to continue building, acting as a leader in the safety sector."
Related Topics