The safety said he let his emotions get a little high after several slights against the Alouettes and the French language by the league and broadcasters.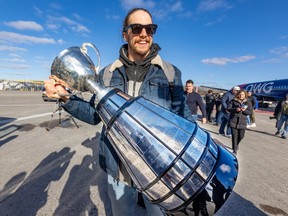 Article content
MIRABEL — Alouettes safety Marc-Antoine Dequoy says his passionate French speech after Montreal won the Grey Cup on Sunday was nothing against English-speaking Canadians.
The Alouettes upset the Winnipeg Blue Bombers 28-24 at Tim Hortons Field in Hamilton to win their first CFL title since 2010.
Article content
The 29-year-old from Île-Bizard also claimed that the TSN broadcast listing had the Toronto Argonauts facing off against Winnipeg in the final instead of Montreal two days leading up to the game.
"They never believed in us," an animated Dequoy told RDS in French. "But you know what man, keep your English, because we're grabbing the Cup, and we're bringing it to Montreal, and we're bringing it to Quebec, and we're bringing it home!"
Article content
Dequoy admitted Monday as the Alouettes arrived home as champions that his emotions got a little high after Montreal's triumph.
"The story behind the speech is just that after a win, after something so big as that, the emotion was so high, so big, it's something I've dreamt of all my life," he said.
He also clarified his message, explaining that he felt French Canadians and the French language had been disrespected by the league.
The CFL received criticism before Grey Cup Week after the national anthem was sung exclusively in English during the East Division final between Toronto and Montreal on Nov. 11. It received further criticism after an English-only CFL logo was placed at centre field for the Grey Cup in Hamilton.
Article content
"For me, what the message was is just … the CFL is bilingual. The CFL is French and English as Canada as a country is," said Dequoy on the tarmac at the Mirabel International Airport. "We just felt that … the French-Canadian was not respected, the French language was not respected.
"I just felt disrespected for me and for my province and for my heritage, and just when the emotion is so high after the game, what I actually meant was not (against) the anglophone people, it was just 'you can keep the sign in English.' That's what I meant."